There are several standard construction options for cabinets and it's important to understand the differences in appearance, strength and cost if you're purchasing new cabinets or remodeling.  Below we give you a brief overview of the most common cabinet construction options.  We wish you the best on your project and welcome your questions.
Cabinet Construction Options – Frameless (aka European) vs Faceframe
Frameless or European cabinet construction does not have a frame on the front of the cabinet box. Instead the cabinet doors are attached directly to inside of the box itself, and the doors completely cover the frame.  Instead of seeing the frame between drawer fronts or cabinet doors, the doors and drawer fronts cover the entire box and meet up with each other providing a clean look and maximum access to the cabinet. European cabinet construction can be less expensive than face frame because you don't have the added cost of solid faceframe lumber and it can be less time consuming to make, however box materials and construction and reinforcement methods vary greatly so frameless cabinets may not always cost less.  While frameless cabinet construction originated in Europe, it has become mainstream and is widely used in the United States.
Faceframe cabinet construction is a more traditional cabinet construction method where the cabinet box has a frame (typically 2″ solid wood frame stock) attached securely to the face of the box and the cabinet door attaches to the face or inside of the frame typically with a 1/2″ overlay (the cabinet door covers 1/2″ of the frame underneath on all sides).  Faceframe construction is considered very strong and durable because of the extra reinforcement provided by the solid wood frame on front and remains a popular cabinet construction option.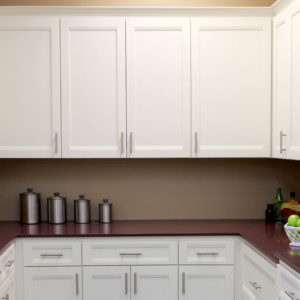 Faceframe cabinet with full overlay construction
Cabinet door placement – full overlay, partial overlay, inset
Traditional faceframe cabinets are built with standard overlay construction where the cabinet doors partially overlaying the faceframe by 1/2″ on all sides.  In standard overlay construction you can see a significant portion of the faceframe behind the doors and drawer fronts.
In full overlay construction the faceframes are typically more narrow than traditional faceframes with frames reduced to 1-1/2″ width or smaller.  This reduced frame creates a more narrow gap or "reveal" between doors and drawer fronts at the cabinet front, creating an appearance that is closer to the clean lines of a frameless cabinet while still providing the strength of the faceframe.
Inset cabinet door placement the cabinet doors are built to fit inside the faceframes so exact cabinet door sizing and square is critical. Many cabinets with inset cabinet doors are built with a bead detail on the faceframe where it meets the door because the outside of the inset cabinet door is typically squared off and lacking design detail.