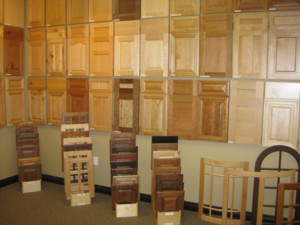 How to Display Sample Cabinet Doors
Below are two options to display cabinet door samples for your customers. Both display options allow door samples to easily be removed and replaced, and allow for a variety of cabinet door widths and heights to be displayed.
Wall Cabinet Door Sample Display
When floor space is not available or you prefer your samples at eye level, a wall display made using 3/4″ MDF French cleats mounted to the wall and the back of the cabinet door is an inexpensive, quick solution to maximize the use of your space.
In as little as 3′ x 4′ of wall space you can display a collection of 12 cabinet door samples and give your showroom a professional look. View the following link to see photos of our wall cabinet door display.
Floor Cabinet Door Sample Display
When wall space is not available, a floor display rack is a great solution. TaylorCraft Cabinet Door Company sells floor display racks to our cabinet door customers at a minimal cost, with very quick lead times, or you can view the sample display nest pattern below and cut and assemble the floor display yourself.
Our floor display is 17″ deep and 10″ wide and allows for the display of 8 sample cabinet doors per display. View the following link to see photos of our floor cabinet door display.